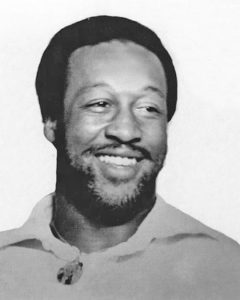 Prentice McCray, Jr.
Football, Basketball, Baseball, Track and Field
Prentice  lived  in  Stockton  from  the age of four until 1969,  when he graduated from Edison High School and chose to attend Arizona State University on a football scholarship. He returned to Stockton from 1983-1989  before again relocating to Arizona.
At Edison, Prentice was a multi-sport athlete in football, basketball, baseball, and track. He received All-City, All-Conference and All-State level honors in all sports. Prentice set the Edison High School record in the long jump and high jump. He played for the North Team in the State North/South Shrine football game and received All-American honors in the Optimist All-Star baseball game in Sacramento.
Prentice played football and baseball at Arizona State and was drafted twice by the New York Yankees but elected to pursue his football career.
Prentice lettered three years at Arizona State in  football.  He  was an eighth  round draft pick in 1973 by the Detroit Lions. After making it to the final cut in 1973, Prentice received two offers in 1974 prior to the season from the Oakland Raiders and the New England Patriots. He signed with the Patriots and was named to the NFL All-Rookie Team that season. His most memorable season was 1976. Against Joe Namath and the New York Jets, Prentice intercepted two passes and returned them both for touchdowns in the same game for a total of 118 yards. He was part of the secondary that set a Patriot record for seven interceptions and eleven takeaways in the same game. Prentice played as a safety for the Patriots from 1974-80 and with the Detroit Lions in 1980-81. As a pro football safety, he played in 88 games and had 15 interceptions, 352 interception yards, six fumble recoveries and scored two touchdowns. He was named to the Patriots' 70's All-Decade team in 2009. He was inducted into the African American Athletes Hall of Fame of Stockton in 1988.
Prentice spent many years coaching at the high school and community college levels as well as Pop Warner football teams. He continues to mentor young athletes.
Prentice and his wife, Casandra, are the parents of two sons, Prentice III and Garrett. They have two grandchildren, Gabriela and Xavier. He spends his free time supporting the efforts of various non-profits and playing golf.